Case Study: Turmeric
Introduction
Throughout mainstream culture, we often hear about the herb turmeric or curcumin. It has become a part of American culture through its use as a cooking spice and its presence in products such as "curcuma lattes" which can be found at coffee shops around the world. Turmeric is also becoming and integral part of mainstream preventive medicine, as well as a common treatment for many medical conditions. It is increasingly popular in the natural products industry as a treatment for many digestive issues and for its significant anti-inflammatory properties which are comparable to those of Ibuprofen (PBS 2015).
Turmeric Origins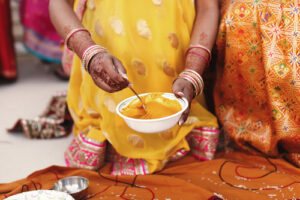 Turmeric originates in South Asia and has been used as early as the 5th century AD in Indonesia (Atina Foods 2017). The turmeric plant grows up to three feet and consists of leaves, flowers, and roots, where the turmeric is derived. The most commonly derived part of the turmeric plant are the chemical components curcuminoids (i.e. curcumin) (AtinaFoods 2017). Turmeric was originally used in Ayurvedic medicine, which is an ancient Indian system of natural healing that continues to be practiced today (PBS 2015). Currently, India is the largest producer of turmeric, and accounts for 80% of all consumption (NCBI 2011).
Importance of Turmeric
There are over 100 species of turmeric, all with medical, religious, and cooking uses Traditionally turmeric was used as an Ayurvedic ingredient for medicine, as well as a method for coloring and flavoring food. Turmeric was also used as a treatment for gastrointestinal issues, regulating menstruation, and relieving arthritis. Additionally, turmeric pastes were made to treat skin irritations (NCBI 2011). Currently, turmeric is used in both preventive and traditional medicine, and has become a very mainstream herb in western culture. Even the popular medical site WebMD has a page about turmeric's origin, uses in modern medicine, and its side effects. Although turmeric is generally very safe with minimal side effects even in high doses, many sources recommend consulting a medical doctor before consuming it if the patient is pregnant, taking prescription medication, or has a serious medical condition.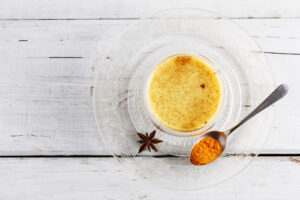 Turmeric's presence is very pertinent to the natural products industry because it is estimated that over $650 million per year is spent on alternative therapies for chronic inflammatory diseases (NCBI 2011), which includes Turmeric as one of the main alternative treatments. Turmeric has been studied and used in Ayurvedic medicine for millennia, so its immense value is evident. It is important for members of the natural products industry to study and examine the most popular herbs, including what their current and ancient uses are, as well as how they become mainstream.
For further reading on the uses and effects of turmeric:
https://www.webmd.com/vitamins/ai/ingredientmono-662/turmeric
https://www.sciencedirect.com/topics/agricultural-and-biological-sciences/turmeric
https://wellnessmama.com/5297/turmeric-uses/
This video discusses an Ayurvedic recipe for Turmeric milk: https://www.youtube.com/watch?v=l6pNWav3tR8
Sources:
http://www.pbs.org/food/the-history-kitchen/turmeric-history/
https://www.atinafoods.com/blog/2017/5/1/turmeric-plant