Country Case Study: Bolivia
Introduction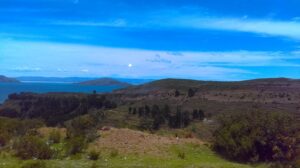 Bolivia, a beautiful country located in South America, is known for its stunning mountainous landscapes, rich indigenous history, and its connection to herbal medicine. Because of its history and practice with herbal medicine, its export industry, and the influences from the West, Bolivia provides a strong example of the intersections of indigenous and western culture and traditions. Indigenous people in Bolivia are among the poorest in the world, and thus have a higher risk of having health problems (Biomed Central 2008). It is estimated that 90% of the population in developing countries, including the indigenous regions of Bolivia, rely on traditional and herbal medicine to meet basic health needs (WHO 2002).
The Kallawaya
The Kallawaya people who live in a mountainous region outside of the capital of Bolivia, La Paz, also known as "the land of doctors" are herbal doctors, healers, and travelers. They have studied herbal medicine for centuries and passed it down through generations of Kallawaya Shamans, or medicine men. Bolivia is home to over 980 species of pharmacopoeia, which is one of the biggest groups of medicinal plants in the world, so Shamans have a very deep understanding of nature and biology, which they link to religious beliefs of healing.
The following videos explain the process of becoming a Kallawaya and the importance of Shamans in Bolivian culture and history:
https://www.youtube.com/watch?v=ZZNEet5bg0s
https://www.youtube.com/watch?v=h3SDWjYtQyc
History of Indigenous Rights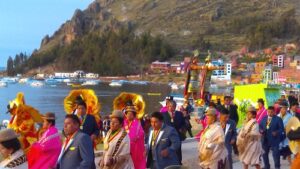 Bolivia represents the juxtaposition between ancient traditions and Western culture because of its high indigenous population and its turn to more modern technologies and cultural practices. There are an estimated 36 indigenous groups in Bolivia, which according to the 2012 census, make up 41% of the population (BBC News 2014). However, the fight for indigenous rights in Bolivia has been a long journey. A series of dictatorships starting with a coup d'état in August 1971 led by General Hugo Banzer Suarez establishing a military dictatorship. There was a second dictatorship that occurred in 1980 by General Luis Garcia Meza until 1982 when powerful political groups were able to reestablish democracy in Bolivia. Under these dictatorships, indigenous groups were not allowed basic human rights and anyone who opposed the dictators were subject to torture in concentration camps (Gula Review 2013). Indigenous Bolivian groups did not win the right to vote until 1952 when there was a National Revolution (telesurtv 2015), but because of the dictatorships, indigenous people did not actually have basic rights including the right to vote until 1982 with the return of democracy. Moreover, in 2005, Bolivia's first indigenous leader, President Evo Morales was elected, and he is working to create a more just society for indigenous peoples. Additionally, in 2007, a new constitution was created along with the UN Declaration on the Rights of the Indigenous Peoples (IWGIA 2018).
Influences of Western Culture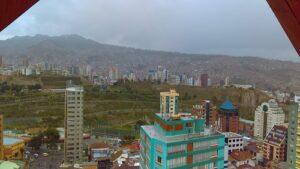 Despite the recent political advancements, we still see a large difference between the wealth of La Paz and the surrounding indigenous areas, and discrimination and racism against indigenous groups is still a systemic issue throughout Bolivia. Nevertheless, this does not keep Western influences from affecting indigenous groups. There are many visible differences between the capital La Paz and El Alto, where many indigenous groups live. However, these differences are shrinking because there is now a cable car system bridging the gap between the people and cultures of two cities. Bolivia also has one of the largest natural gas reserves in South America, so the economy grew 6.5% in 2013 because of the commodity boom (BBC 2014).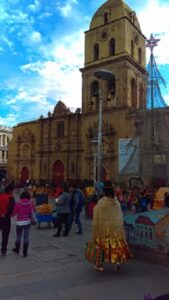 The effects of Western influences can also be seen in medical and health fields. According to Biomed Central (2008), Bolivians use primarily plant remedies for conditions such as wounds and bruises, respiratory infections, fever, arthritis, and general pain. Yet for chronic illnesses, they use a combination of herbal and western medicine to treat the illnesses. Not only have traditional medicinal practices begun integrating with western practices, but many shamans have also started integrating into western culture to varying degrees. For example, when visiting Bolivia, one might see a shaman wearing Nike shoes and a gap t-shirt while making offerings to the gods. There is also now a Kallawaya traditional medicine class at the University of La Paz, even though originally the medical practices were only passed down through Kallawaya families.
Conclusion
Bolivia is an excellent example of the convergence between western and indigenous culture. It provides a framework for examining and researching the way that indigenous groups are affected by the spread of traditional medical practices into mainstream society. Bolivia provides a great case study for us members of the natural products industry to recognize where some of the herbs we use come from, and how they are integral in seemingly, far away societies and traditions.
Sources
Photos were contributed by Kristen Snyder.
https://www.telesurtv.net/english/opinion/Indigenous-Rights-in-Evos-Bolivia-Versus-Bachelets-Chile-20171226-0017.html
https://www.telesurtv.net/english/analysis/Bolivian-Race-Relations-and-the-Struggle-for-Ethnic-Equality-20150320-0015.html
http://gulawreview.org/entries/human-rights/military-dictatorship-in-bolivia-and-the-contemporary-campaign-for-justice
https://ethnobiomed.biomedcentral.com/articles/10.1186/1746-4269-4-1
https://www.iwgia.org/en/bolivia
http://www.bbc.com/news/world-latin-america-29686249