Field Research: Healing In Bolivia
In the natural products industry it takes a community to create every individual product that we as American consumers rely on every day. There are many steps that go into this carefully crafted process, starting with the growing and cultivation of herbs.
Yellow Emperor has been working hard to learn more about where the herbs we use come from in order to promote a more sustainable and ethical process. With the goal of expanding our research, three members of the Yellow Emperor team, including myself, embarked on a journey to Bolivia in order to speak with experts in traditional medicine and the natural products industry in Bolivia. We also had a unique opportunity to explore the country where many of the herbs used in the natural products industry originate. This is a collection of notes woven together to paint a complete picture of what our Bolivian exploration really looked like. Throughout the trip, we met with many different people and several NGOs and other organizations that are working to help support traditional medicine and indigenous values in Bolivia.
Arrival in Bolivia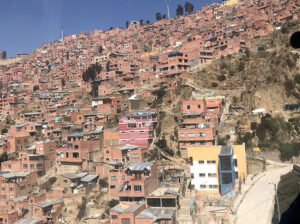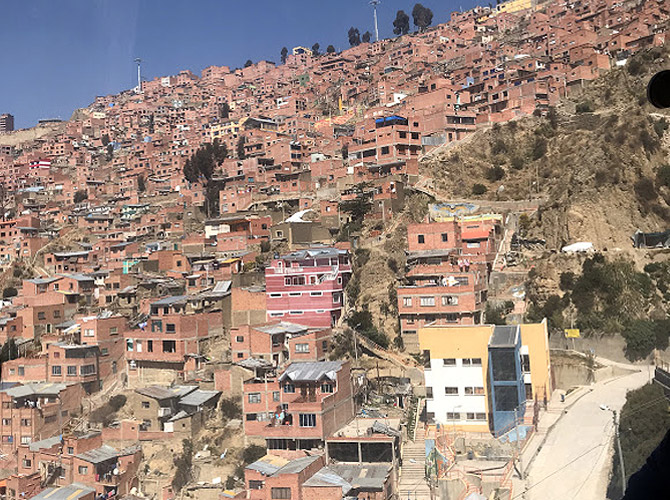 After starting the strenuous journey to La Paz on August 9, traveling via LA, Miami, and Lima, Peru, we finally arrived at 4am on August 10. We had been awake for almost 24 hours, and yet even in our exhausted state, we were amazed at the beauty of this city that sits in the bottom of a valley. La Paz is lit up with radiant orange lights, with no other colors visible. The monochromatic theme of the city gives an illusion that it is completely flat, even though it is actually very hilly. It was impossible not to notice the moon, which waxes and wanes in a different way than in the northern hemisphere; giving a beautiful, yet eerie feeling to the early morning sky. Crossing the equator also led us directly into winter, where the freezing temperature came as a bit of a shock. We checked into the hotel and immediately fell asleep, knowing we would be up early to begin our work.
The Campsite
The next morning, we were taken to the campsite where we would be staying for the remainder of our trip. The change in elevation was immediately noticeable and quite shocking. The cities we visited in Bolivia were at an elevation of about 13,000 feet, compared to being at sea level in Eugene, Oregon, so it was very difficult for all of us to adjust to.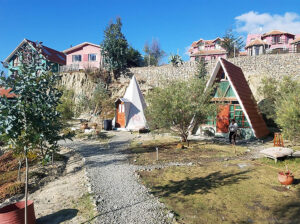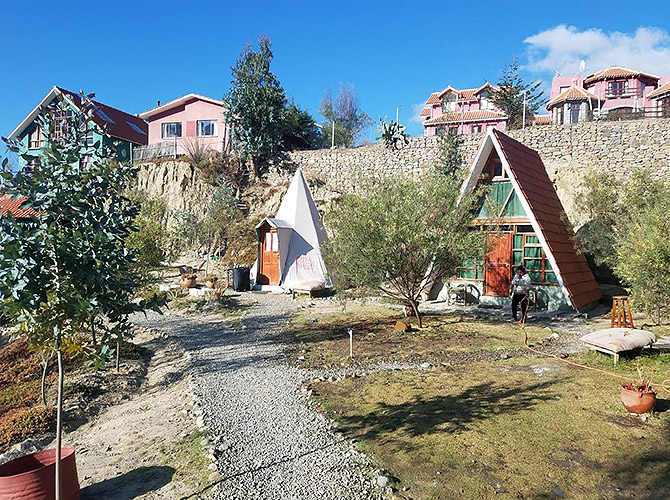 The campsite was located in a small city on the top of a hill with a clear view of the Andes mountains and a shallow river running below it. It was the epitome of an Arcadian view and truly breathtaking. We were given a tour of the campsite and an introduction to all the activities planned for the week. It was at this moment that I realized I would spend the rest of the week sleeping in a Tipi, which ultimately ended up being colder than sleeping outside.
The Pacha Mama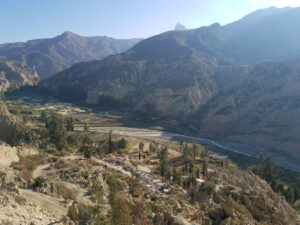 On this first day we were also introduced to a very important Bolivian belief in the "Pacha Mama" or "Mother Earth". The Pacha Mama is the entire universe, including all living and non-living beings, and includes the past, present, and future. The belief in the Pacha Mama includes a feeling of connectedness with all other beings in the universe, and is central to the practices of indigenous groups.
UpClose Bolivia
Throughout the trip, we worked alongside an NGO called "Up Close Bolivia" and had the opportunity to visit a number of their volunteer sites. You can learn more about UpClose Bolivia on our Efforts page.
Valley of the Moon Children's Center
On the first day of activities, we visited the Valley of the Moon Children's Center, which is a daycare center for children who are too young to go to school. The center was developed in order to help women who wanted to work. In the past, many women in the community could not work because they had to stay at home to watch the children, or they would have to leave their children at home alone during the work day. The creation of the children's center also developed a "Mother's Club" for the mothers of the children at the center.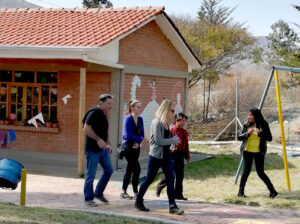 The club consists of mostly single mothers and acts as a support network for them. The parents pay around $20 per month for their child to stay at the center while they are at work. There are about 60 children at the center at any given time, and there are classrooms for the children depending on their age, which ranges from 8 months to pre-kindergarten. The children spend a large portion of the day learning in a classroom setting, but also have opportunities to play on a huge playground and learn gardening skills in the greenhouse. Unfortunately, due to a lack of funds, the greenhouse is not currently functional. While at the children's center, we got a tour of all the classrooms, where we had the chance to interact with the kids. They were all incredibly friendly and excited to see visitors. One of the kids even waved and said "bye bye!" on our way out, which was very cute and endearing. Yellow Emperor worked with Valley of the Moon Nursery lending a hand to help the children's center fix many of the structural issues and helping to set up educational experiences in the greenhouse about healthy living and the benefits of plants.
The Equine Therapy Center
Another volunteer site we visited was the Equine Therapy Center. We spoke with several of the people who work there to discuss how horse therapy relates to natural and traditional healing. We learned that when Bolivian parents are put in jail, the children live in jail with them because there are not enough resources to have a foster care system to take care of those kids. Therefore, many of the kids seek equine therapy after this traumatic experience. Working with horses gives kids a sense of autonomy, which is especially important for kids with trauma or disabilities. It also allows them to connect deeply with another living being. Additionally, the horses' body heat is about 100 degrees naturally, so the warmth of the horses can be very soothing and therapeutic for children. Natural medicine does not only consist of taking herbs, but also using all aspects of the environment and nature to improve well-being. Encouraging the connection of children and animals is very important in the greater belief system
Traditional Medicine in Bolivia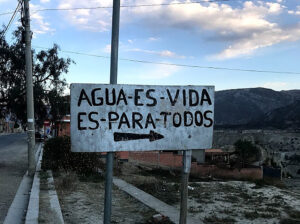 In addition to visiting volunteer sites, we met with several people who play a large role in the natural products industry in Bolivia. One of our meetings was with Marcelo who was hired by the Bolivian government as a male witch to represent traditional medicine in order to have a well-rounded governmental body. Despite the importance of traditional medicine to indigenous groups, Bolivia's natural medicine industry is facing many of the same threats as in other countries around the world. The government has a significant influence over people's ways of thinking about medicine as well as the power to regulate the industry. For example, the constitution states "freedom of spirituality," yet the post-capitalist idea of a commodity economy has led to a shift in priorities of the government. Currently, the government is expanding the agricultural border into land that used to be considered spiritual, or natural reserves. In this way, the green, or environmental movement, has become like a business, which is the opposite of the true intention. In Bolivia, traditional medicine is not under the Ministry of Health, but rather controlled under the food regulations. This is partially because traditional knowledge is not empirical, and information is passed from one generation to the next, so it is very difficult to "prove" its effectiveness in a way that would be scientific enough for the government to approve it as medicine. Furthermore, the methods of healers and Shamans differs significantly, so there is no way to regulate its uses and applications. The only benefit of the government recommending or encouraging traditional medicine is that more people would seek it, and would arguably receive better care than they do in hospitals. But the values of traditional and conventional medicine do not align. For example, Marcelo referred to hospitals as "sick and dying factories," where everything is sterile, and the doctors are cold and impersonal. Treatment in hospitals is designed for the doctor's comfort, which involves avoiding contact with the patient through gloves, masks and other coverings, and the process is cold, clean, and quick. Alternatively, in traditional medicine contact is encouraged, and it is important to take as long as necessary to heal. In sweat lodges, everyone is naked and sweating, which is very healing, and people may stay in sweat lodges for many hours. However, Marcelo explained that the majority of the population still chooses conventional medicine simply because of the cellphone. In this day and age, the majority of people have internet access, and many have smartphones where they have access to a seemingly infinite amount of knowledge at all times. If someone feels sick, they can quickly google their symptoms and find possible diagnoses and treatments. Yet, google will not produce a list of shamans to go see. The way that information is gathered and shared is very different from the traditional methods of word-of-mouth. This highlights a very important generational and cultural complication.
Women's Role in Traditional Medicine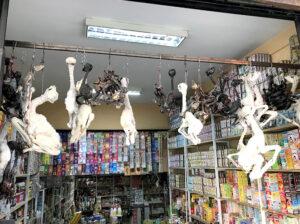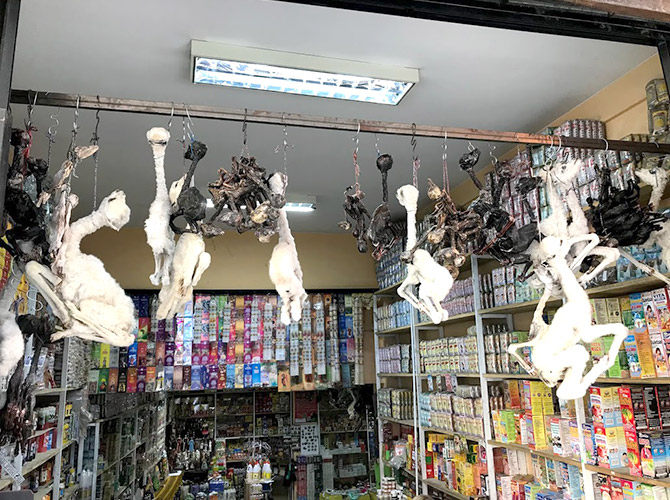 Throughout the trip, a very common theme that was discussed is the Bolivian government's control over medicinal practices. For example, it is against the law in Bolivia to have children at home, and there are no governmentally recognized midwives in the country. So even people who believe in traditional medicine and who seek it will face legal barriers as well as social criticism for pursuing it. This barrier also occurs in cases of abortion, as we learned on a feminist tour of La Paz with a Bolivian feminist and activist, Emma Rada. Abortion is only legal in cases of incest or rape, but even in those situations women are terrorized for considering abortion, and will often choose to have the baby. In some cases, women will go the dangerous route of asking witches for abortive herbs, which can sometimes be fatal to the mother. Women have always had a very important role in herbal and traditional medicine, and when an aspect of culture related to women is threatened by the government or by society, it often leaves the whole population of women in an inferior position.
Feminism in Bolivia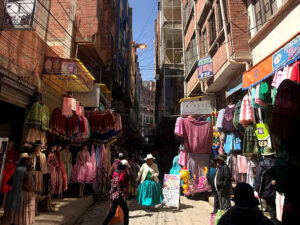 Emma introduced us to Cholitas, who are the women in indigenous communities, recognizable by their colorful skirts, scarves, long braided hair, and bowler hats. For many years, Cholitas were not allowed to wear their traditional clothing in public and were ostracized from mainstream society. Under Bolivia's first indigenous president, Evo Morales, the Cholitas can now freely wear their traditional clothing in public spaces. We saw Cholitas working in retail stores, selling produce at food markets, and running the witches' markets. On the tour we visited one of the many witches' markets in La Paz. The markets are run by Cholitas and contain many different types of healing herbs and other objects that are important to indigenous culture. It was very interesting to learn about feminism in Bolivia because the issues women face there are very different than the challenges American women face. For example, Emma chose to move out of her parents' home and into her own apartment without getting married first. In American society, this seems very normal, but in Bolivia, this actually causes society to look negatively at her family because it appears that she is unable to get a husband, or her family is incapable of supporting her. The constraints on women's behavior in Bolivian society aligns directly with the challenges women face as important figures in the natural products industry.
Kallawaya Ceremony
Even though the role of Cholitas and witches in indigenous communities in Bolivia is extremely important, the only actual healers and shamans who we had extended interactions with were men. We were fortunate enough to have the opportunity to attend a traditional Kallawaya ceremony with Hermano Calixto. The ceremony is a traditional offering to the Pacha Mama that many indigenous groups perform during the month of August. Calixto had a very interesting perspective because he is both a Kallawaya and a Deacon in the Catholic church. Given the fact that Spanish colonizers brought Catholicism to Bolivia has made the Catholic and indigenous belief systems appear mutually exclusive, and it causes Calixto to be discriminated against by both sides. However, he thinks that Catholicism and Kallawaya beliefs are complementary in that they are aiming to achieve the same goals. He expressed how often the catholic church will refer to ceremonies like the one we participated in as "witch craft" or "black magic," but Calixto believes that God is happy when we perform these ceremonies because how could God be angry when the goal is harmony, peace, and equity? The ceremony began with a ritual of smelling herbs and breathing three times into them in order to purify us of our problems and sadness. The ritual continued with adding coca leaves, llama wool, and other important Kallawaya symbols. At the end of the ceremony, we burned the altar as an offering to the Pacha Mama.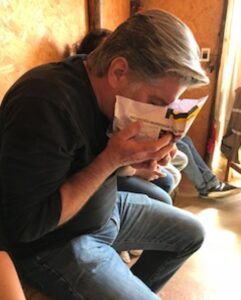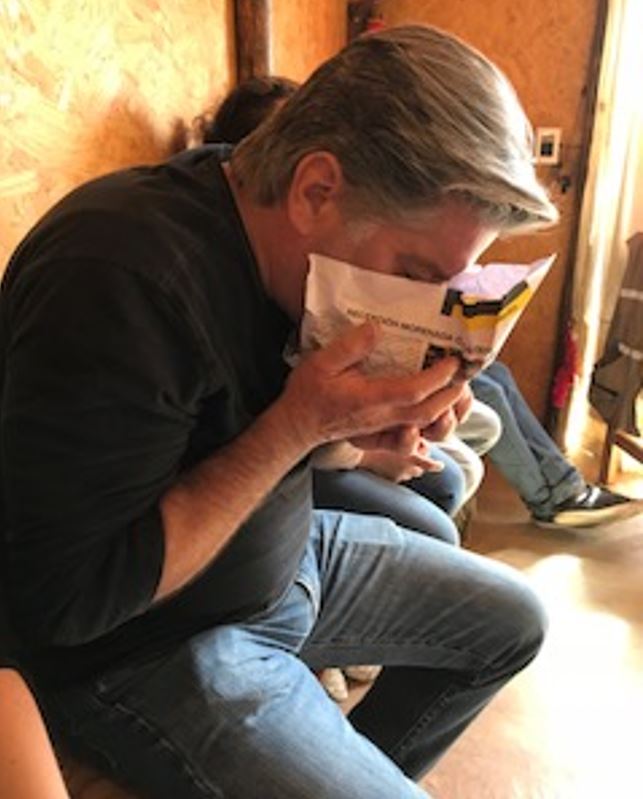 Calixto emphasized the Kallawaya values of living well within the realm of the Pacha Mama. He also expanded on a topic that had been mentioned on many different occasions about how everything contains complementary male and female energy: There are no opposites, only complements. He also discussed how natural healing does not just involve knowledge of plants, but also the relationship that humans have will all other living things. Every living being, or the three spirits, including the espalla spirit (that each living being has), iya (the animal spirit), and tapa (the spirit that is put inside buildings when they are built), and all completely equal within the Pacha Mama. This means that when a human takes the life of a plant or animal, it is necessary to treat them with respect by greeting them and asking for permission before using them. If the proper care is not taken when harvesting medicinal herbs, they will not have the same effects. In many places around the world, the commercialization of nature is challenging these beliefs that all living beings are equal. Therefore, the ultimate purpose of this ceremony was to begin to repair the ruptured relationship through sharing and giving. Performing the ceremony with Calixto was incredibly humbling. The Kallawaya's views on nature and relationships is very straightforward and beautiful, and has provided the foundation for human connections with nature that date back to ancient times and will continue to shape traditional belief systems and the natural products industry forever. This experience emphasized how important it is for Yellow Emperor to think about where the herbs we use come from, and to ensure we honor the traditional beliefs and practices through our own manufacturing and production.
Natural Products Industry in Bolivia
The following day, we visited a natural products manufacturing company that is run by a famous Bolivian shaman, Milton Gonzalez. Upon entering the facility, we were instructed to don lab coats and hair nets, which provided a similar feeling to entering the production room at Yellow Emperor. Throughout the tour, we saw the production area with the cooking machines, the labeling and sealing machines, sachet machine, bottles and boxes stored on pallets, and the Quality Control room. It was a surreal feeling to walk through a factory that has all the same components as Yellow Emperor, knowing we were over five thousand miles away from home. After the tour, we spoke for several hours with the Shaman to learn about how he got into the natural products manufacturing business. Most of the products made by the company contain Aloe Vera – including juices, shampoo, soaps, and other cosmetic and medicinal products. Milton recounted the story of how he became enamored with the Aloe Vera plant when he was a young man spending time in a small village in Bolivia: There was a group of kids who burned their arms in a fire, and the people in the village immediately sought the help of a nearby Shaman who took over a day to arrive. Meanwhile Milton was angry that the parents would not take the kids to the hospital because it seemed cruel to make the children wait for treatment. Eventually the shaman arrived, and he wrapped the children's arms in Aloe Vera leaves using dirty towels, which was shocking to Milton, but by the next day the children were completely cured. Ultimately, Milton became a student of this shaman and became a healer himself. Aloe vera is something he truly believes in, especially its healing capabilities, so his immense passion comes through in his business practices. However, Bolivia is a very poor country, so many people are unable to buy commodities, so the business is struggling. It was at this moment where we had the realization that in Bolivia, the traditional medicinal practices are being lost, whereas in the US they were lost a long time ago, and are just now coming back. It is important to acknowledge, that when I use the term "lost" that is coming from a privileged point of view. In actuality, traditional practices around the world were forced out by colonizers who did not allow native groups to freely continue their cultures' practices. And now, many Americans are trying to reclaim and utilize some of this important knowledge.
Homestay in Santiago De Okola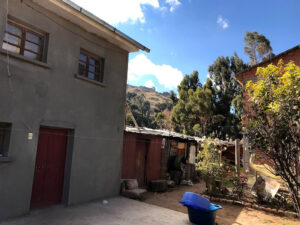 The final adventure on our trip involved staying in an indigenous community called Santiago de Okola, which is located on Lake Titicaca. We were accompanied by a tour guide who gave us extensive information about the community and its beliefs and practices, and we stayed in the house of a family who lives in the village. The community resides next to a mountain called the "Sleeping Dragon" because of its shape. On our first day we hiked the Sleeping Dragon, where we saw ancient ruins from the Incas, including engravings on the side of the mountain, and the remnants of ancient structures used for agriculture and buildings. During the hike we came across several important medicinal herbs, including a flower called "muña" that we were instructed to rub in between our palms and breathe in deeply when we felt tired on the hike.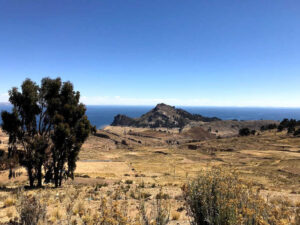 The community also has some folklore that is central to the culture, including the idea that if you get scared a part of your soul is left in the place where you got scared, and you must go through a specific ritual in order to get that part of your soul back. This experience was incredibly insightful because we got to see people who truly live off the land, and thrive using only the resources they can grow themselves or that are readily available in nature. It took many years to discover the properties of plants and that information is passed on through generations.
There was a very interesting moment in which we were asked by one of the family members if we believed in the "Pacha Mama," and when we replied saying no, it was shocking to the members of the community. To them it is a way of life, and it is difficult to imagine that there are many different belief systems in the world, most of which they had never even heard of. It is an important part of indigenous culture and therefore the root of understanding herbal and traditional medicine is to recognize how these communities have learned to survive without access to many of the commodities that we rely on today.
Conclusion
Each stop on our tour, and every conversation with an individual helped us piece together the culture and values of the indigenous Bolivian populations. We were able to take pieces of each interaction to form an idea of how traditional practices, including herbal medicine, fits into the history of Bolivia as well as helped us learn what we can do as a company to preserve these values by making ethical choices in herb selection. Throughout the trip, our group had a list of goals we wanted to accomplish and very specific questions to ask each person we met with and at different times, we felt frustrated when our questions weren't being answered directly. The biggest challenge we faced with our differences in the exchange of knowledge and information was during our meeting with Marcelo. We went into the meeting knowing that he is very knowledgeable about the traditional medicine industry in Bolivia, so we had a well thought out and precise list of questions to ask him, including what are the threats to the industry, and how people in Bolivia make the decision to pursue conventional versus traditional medicine. Contrary to our initial expectations, the conversation did not fully answer all of our questions – at least not in the succinct way that we expected. Nevertheless, it was still one of the most enlightening experiences of the trip. It was a constant struggle to remind ourselves that the American way of research and gathering information is very direct and sometimes even impersonal, whereas the Bolivian way tends to focus on sharing their knowledge through stories and anecdotes. It is important to acknowledge the cultural differences in the exchange of information, especially as Yellow Emperor continues to work with international organizations in the future.
The Future of Yellow Emperor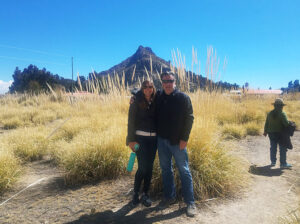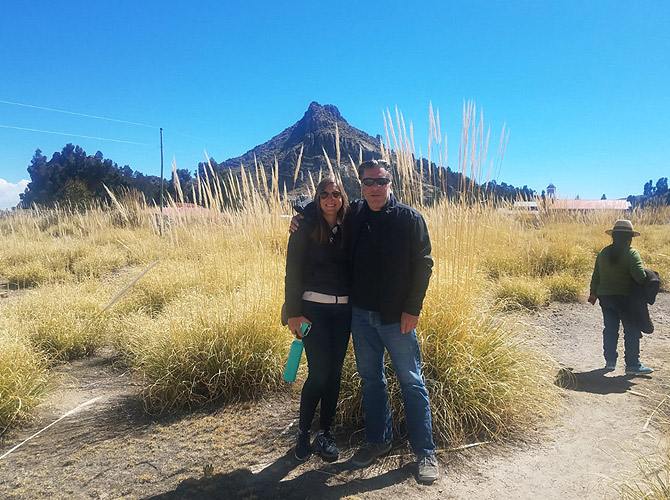 Yellow Emperor will use the knowledge we acquired in Bolivia to further expand the scope of our company's practices in a way that not only solves some of the issues the natural products industry faces around the world, but also in a way that preserves tradition and honors the living beings in the global supply chain that work hard and make sacrifices for the products we manufacture. We can accomplish this through altering our daily practices by allocating resources dedicated to vetting sources, ensuring we are being responsible with our purchasing, and staying abreast of procurement practices that are causing issues for local farmers, economies, and communities that share these native herbs with us. We will also make sure our team performs research to stay on top of challenges to the natural products industry and its supply chain. We will continue to research, learn, and adapt our practices in a way that is responsible, conscious and sustainable, while continuously evolving as the industry naturally evolves. Yellow Emperor also plans to emphasize protecting and serving our local community and environment through partnerships and charitable contributions. Finally, we will take a holistic approach into sustainability looking at our suppliers, our environment, our customers and their customers, and every aspect of the "pacha."