Natural Pain Management
Introduction
While people may choose natural and alternative medicine for countless different health conditions and reasons, it is becoming very common to seek alternative treatments for pain management. Unlike other health issues, pain is extremely common and happens to everyone in different forms throughout their lifetime. Since pain is so common, many people may not want to put chemicals into their bodies each time they want to heal some type of pain. Additionally, healthcare can be very expensive, so it is not always worth the cost to see a doctor, especially when the pain is relatively mild. Pain medication can also be very addictive, and have other harmful side effects, so natural treatments can seem like a safer option. Depending on an individual's needs, there are various different types of alternative pain treatments including herbal remedies, acupuncture, and home remedies such as stretching or applying heat.
Herbal Remedies 
While there are alternatives to conventional pain medication, one of the most popular natural pain treatment option is herbal remedies. Below is a list of herbs that are commonly used to treat pain: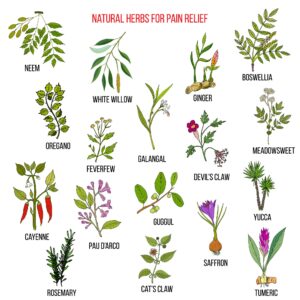 Capsaicin: derived from hot chili peppers, used topically, works by depleting "substance P" which is a compound that conveys the pain sensation from the peripheral to the central nervous system
Ginger: contains phytochemicals that help stop inflammation
Feverfew: has been used for centuries to treat headaches, stomachaches, and toothaches
Turmeric: a spice that is used to relieve arthritis pain and heartburn, and reduces inflammation. It contains the active ingredient, curcumin, which is an antioxidant
Ginseng: used for fibromyalgia
Kava kava: to treat tension headaches
Valerian root: muscle spasms and cramps
Saint John's Wort: sciatica, arthritis, and neuropathic pain
 Willow bark: eases inflammation, reduces fever
 Cloves: contains the active ingredient, eugenol, which is a natural pain reliever often used in over the counter topical pain treatments.
The majority of these herbs are consumed in a tea, tincture, or in their dried form. Furthermore, some herbs can be made into topical remedies. For example, many athletes, or people who suffer from muscle pain might use an arnica cream to topically treat their pain. Arnica is a perennial yellow-orange flower that grows in the mountains of Europe and Siberia. The flower is made into creams and ointments to treat muscle soreness and aches, bruising, joint pain and swelling, and inflammation (Healthline, 2017).
Alternative Therapies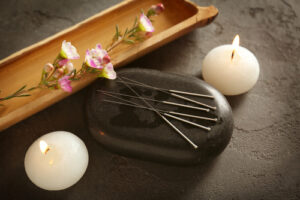 In addition to herbal treatments, people can seek the help of a natural medicine practitioner such as an acupuncturist. Acupuncture has been practiced for thousands of years in China, and is now practiced regularly all over the world. The practice involves the science of pressure points in which the acupuncturist inserts needles into specific parts of the body in order to relieve pain (National Institute of Health 2016). Scientific studies have been performed suggesting that acupuncture is a very effective method of treating and easing chronic pain in the lower back, neck, and knees. It is also often used to treat nausea from morning sickness during pregnancy as well as other stomach issues and headaches.
There are also natural pain remedies that can be performed at home. For example, there is research that shows yoga can be used to treat and prevent pain, or hot and cold compresses can be applied to reduce soreness.  Other types of exercise may be recommended for pain management and while it may seem counterintuitive, avoidance of exercise can actually be detrimental.
Cost of Pain in USA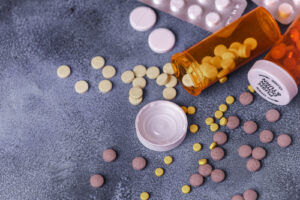 According to a 2008 study performed by the Institute of Medicine Committee, over 100,000 adults in the US suffer from chronic pain. These statistics only account for diagnosable chronic pain, and do not include the number of people who seek treatment for mild or temporary pain. The total cost of healthcare due to pain is around $200-300 billion per year, which is higher than the cost of heart disease, cancer, and diabetes. When including days of work missed, hours of work lost, and lower wages, the total cost of pain to society is closer to $635 billion (National Institute of Health). This number also does not measure the emotional pain and distress that can come from having pain, and the physical toll pain medication can have on the body.
Not only does pain treatment cost a significant amount of money, but treating pain can lead to severe personal and societal effects. Many pain medications are highly addictive, so even people who are treating a short-term or acute condition can ultimately suffer lifelong consequences because of addiction. Studies have shown that prescription drug addiction can often lead to the use of hard drugs such as heroin. In fact, 86% of people seeking help for heroin addiction reported having used prescription pain killers in the past (NIC 2014). Heroin and prescription opioids have similar chemical properties, so they produce very similar effects. Therefore, people who are addicted to prescription pain medication may begin using heroin instead because it is cheaper and more accessible.
Conclusion
Regardless of the reason for choosing an alternative treatment for pain, it is clear that there is a need within the natural products industry to create products intended for pain management. The use of prescription pain medication can lead to immediate health and financial problems, but can also very easily cause bigger issues such as heroin addiction. Sometimes prescription drugs are the best option for pain treatment because of level of pain, circumstance, or personal choice, but natural remedies are available and should be considered. Therefore, it is important for the natural products industry to recognize the effects of prescription drugs and provide accessible alternatives.
Sources: